Sports Management Software: Trends & Examples
June 21, 2022
Every owner or manager of a sports club has a variety of administrative and other related tasks to deal with on a daily basis. In order to make their life easier, it's important to find the best sports club management software that will be designed to fit the needs and requirements of a particular business.
The main benefit of carefully chosen sports management software is its ability to automate a variety of administrative tasks for a sports team, club, or league, allowing management to focus on the players and competitions.
This article will help you learn more about professional sports team management software and how it can impact your company's day-to-day operations and elevate your sports-related business.
What Is Sports Management Software?
Sports management software is a full-featured dashboard designed to combine all administrative and operational tasks to be solved for running a sports team, club, or league duly and efficiently.
Moreover, hiring the proper qualified experts to deliver sports software development services may significantly improve your sports club or team through the following benefits and options:
Engaging new followers via several channels, such as branded mobile apps, websites, social media, and others.
Managing online registration and payments for players, family members, sponsors, etc.
Automating members' involvement via renewal reminders and recurring dues.
Finding and engaging inactive users via personal offerings to motivate them for increased participation in the life of a team or club.
Must-Have Sports Management App Features
Sports management platforms and apps help solve specific challenges, including organizing players, making reports about their performance, managing in-app payments, and communications between teams and corporate sponsors. For several years of our successful work as an outsourcing software development company, we have specified the following key features of sports management apps:
Provide online registration and authorization for players and families.
Schedule games, events, workouts, etc. in a specific calendar with actual updates.
Manage players and rosters.
Track, analyze, and view players' performance in a specified database with detailed statistics that can be checked, filtered, and updated easily.
Manage players payroll.
Integrate with third-party services such as CRM systems, ticketing systems, and content marketing platforms.
Interact with wearable electronics to accurately collect a variety of athletic metrics and health parameters in real-time.
Arrange communication between players and teams via automated notifications, invoices, chats, etc.
Store and process financial reports, analytics, and membership summaries.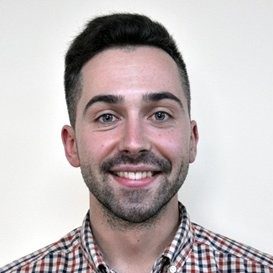 Alexandr Mashkov
Sales Manager
Save your time with our full-fledged R&D department!
Our well-knitted R&D department team will save your time & budget by sharing sports software development insights. We convince that strong field-specific knowledge can guide your project development journey. Ready to discuss?
Leading Sports Management Software and Apps
Given the strengths and features of sports management apps, it's no surprise that there are many great examples of such software on the market today. The following is our "Top 5" list of the best sports management apps.
TeamSnap
TeamSnap is a cloud-based platform that helps manage communication between athletes, coaches, team managers and owners.
Using this app allows administrators and managers to remotely schedule events including details on competitors, arrival times, locations, players lineups, etc. Team members, in turn, can sync event details with third-party scheduling apps, such as iOS or Android native calendars, or Microsoft Outlook to always stay up-to-date on multiple devices.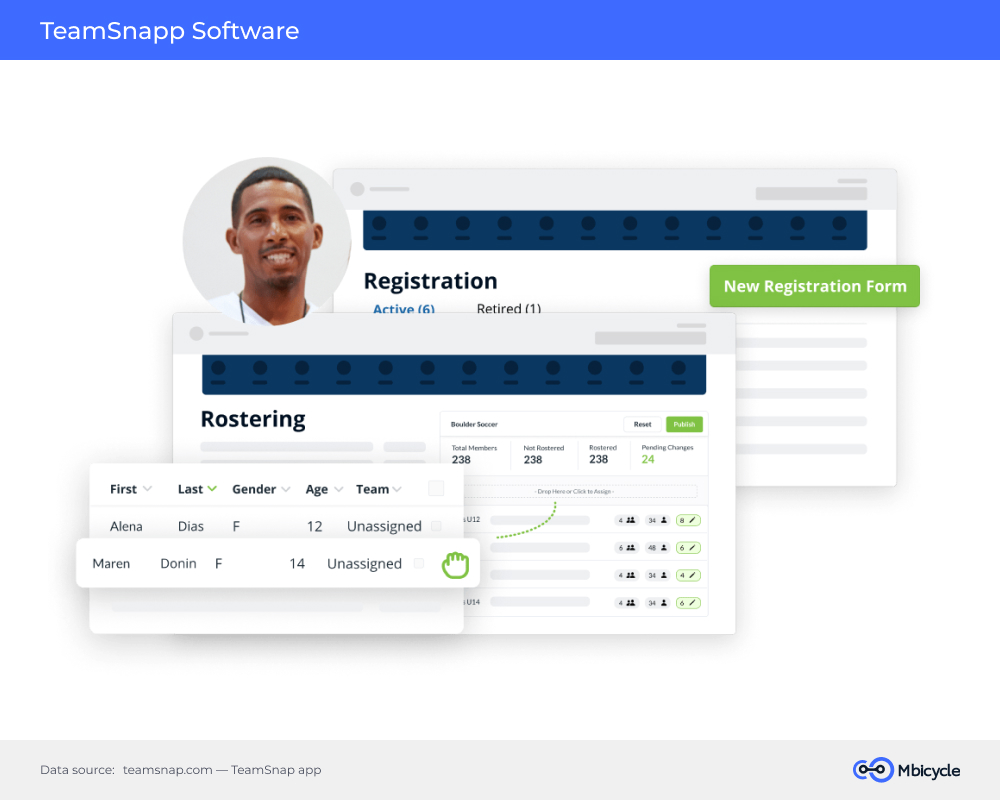 Sports Connect
Sports Connect is a well-versed platform for sports organizations that provides a number of features, such as online registration, website management, scheduling, communication, reporting, and other administrative tasks.
Sports Connect is already trusted by such outstanding names in the industry as Little League Baseball & Softball, US Soccer, American Youth Soccer Organization (AYSO), Pop Warner, and others.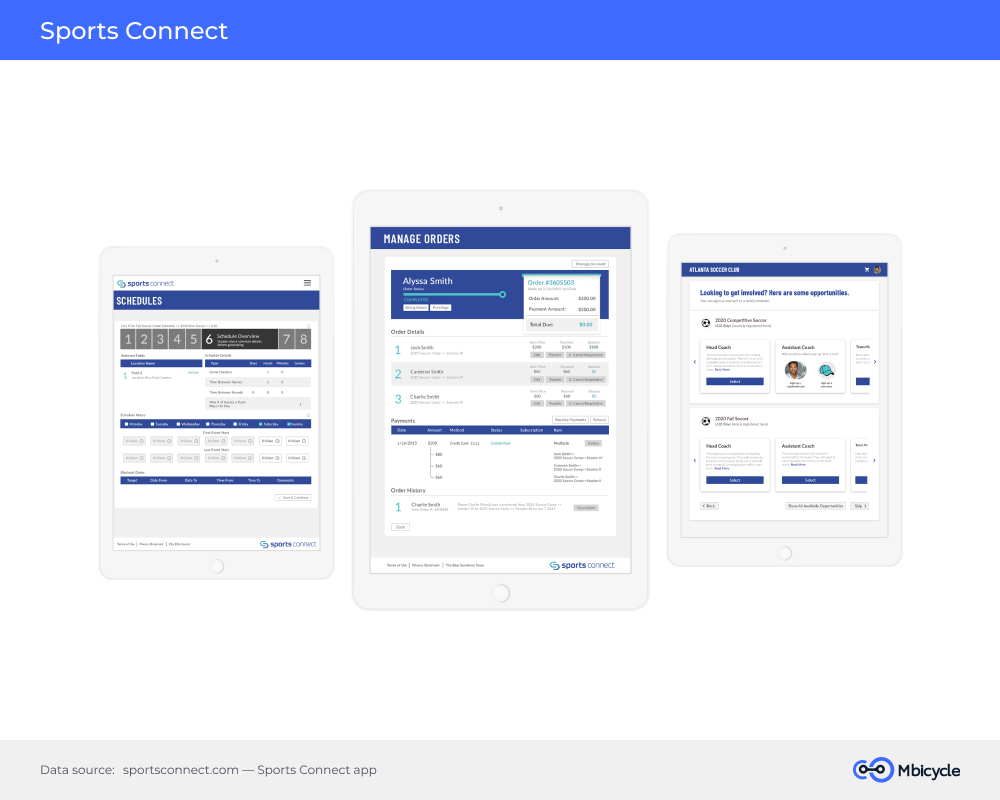 Team App
This is a free management platform for sports centers, clubs, teams, and associations. Team App is fully customizable and provides its users with the following features:
Tracking teams' and players' performance
Sharing photos, videos, and other media content
Communication for participants via in-built chat rooms, forums, group messages
Planning and managing games, leagues, and other sports events
Checking athletes and teams availability
Processing payments, such as membership fees or sponsored donations
Integration with various social media platforms
Following a club's newsfeed
Editing team and player profiles
Selling items relevant to a club, such as team merchandise or tickets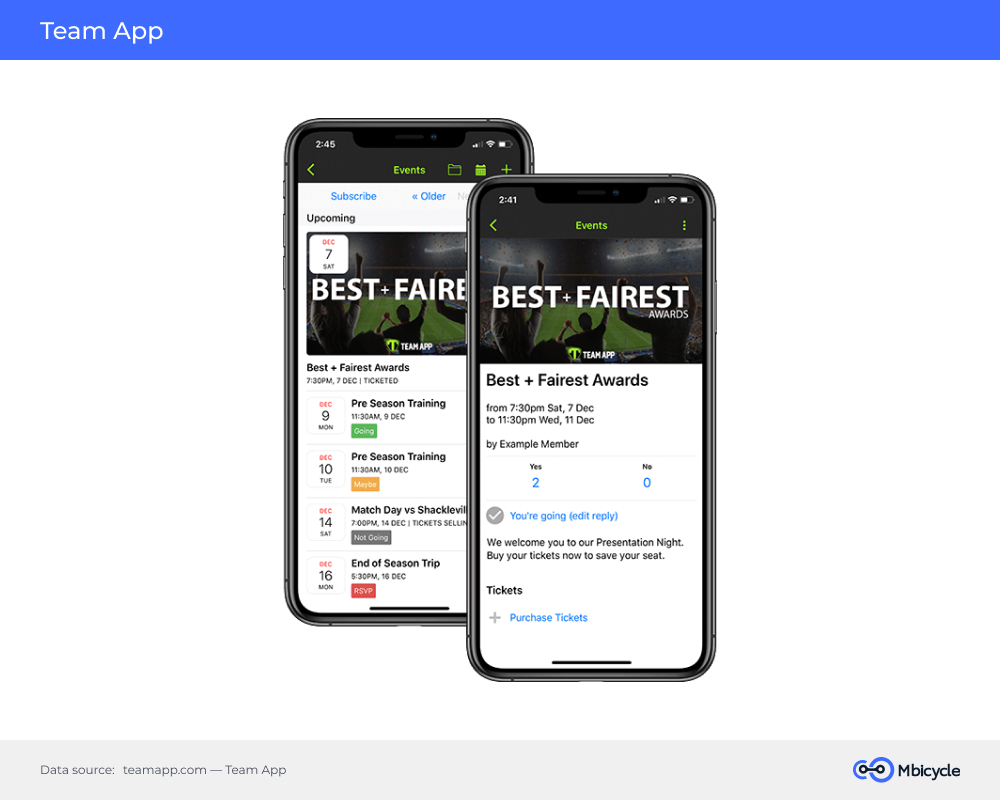 Upper Hand Software
Upper Hand is an integrated platform that is specially designed for sports and fitness centers, studios and clubs to assure efficient operation of their internal business processes and generate related data in real-time.
This sports club management software solution provides its users a variety of features, including online registration, schedule management, auto-renewal memberships, facility management, marketing and client retention tools and finance reports and analytics.
Upper Hand offers full-scale solutions for a sports team or club executives with the ability to track and manage personnel, check their availability, make refunds and reports on online transactions, and check the correctness of payments by automatically updating expired or replaced membership cards.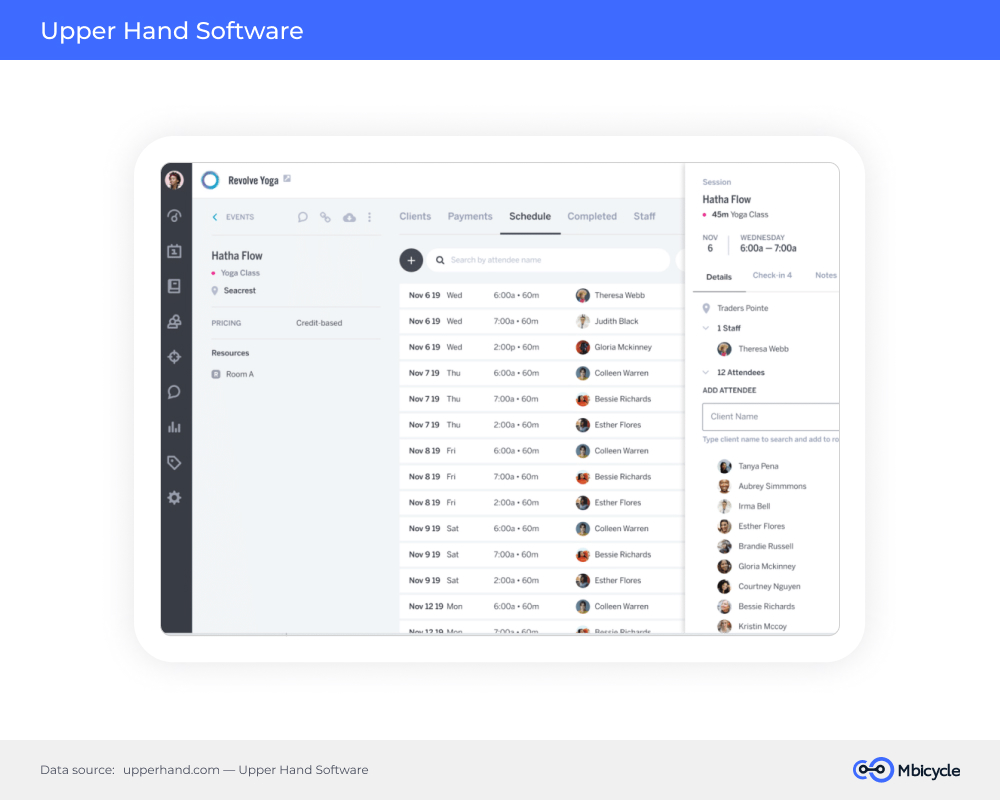 LeagueApps Software
LeagueApps is a cloud-based sports league management software targeted for basketball, softball, football, volleyball, kickball and hockey league events. Among other features, the app provides online registration, schedule management, communication tools for participants, athletes and family members, website management, score management and other reporting options within the platform.
LeagueApps users have options to design their websites with brand logos and templates, add custom pages and set navigation items.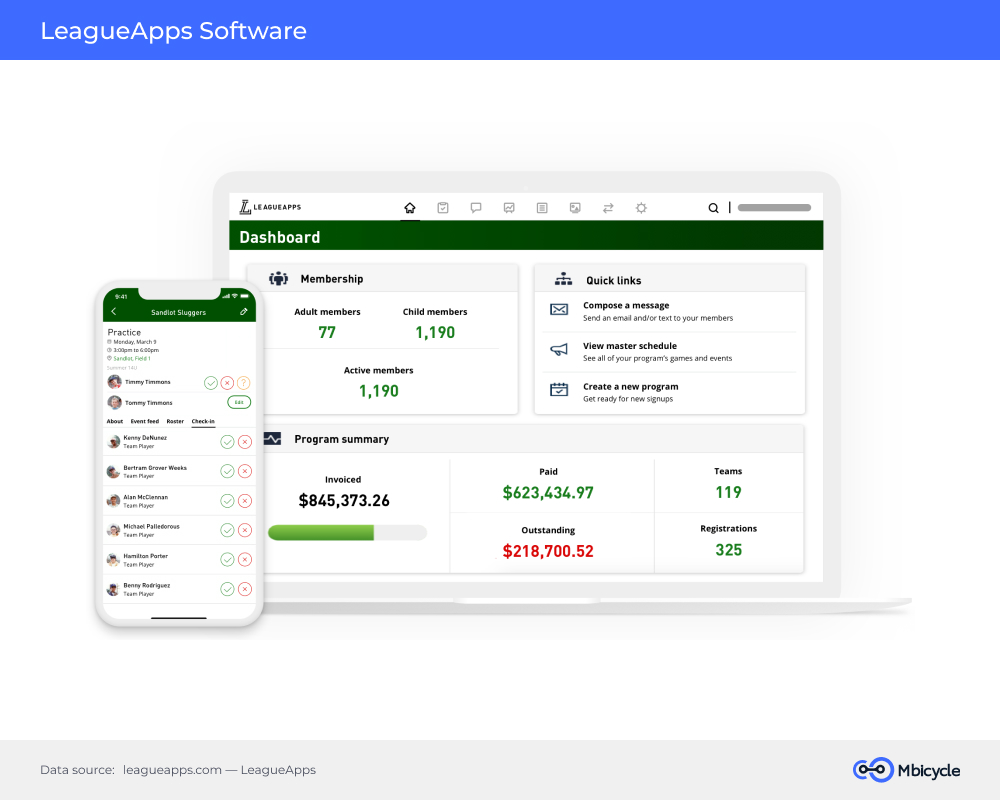 Summary
Sports management software solutions have become smart and reliable assistants for coaches, managers and owners of sports teams, clubs, leagues, fitness centers, etc. Moreover, today such applications and platforms help with solving not just administrative tasks, but provide an expanded range of functions and solutions related to employee management, communication and interaction with club and team members, setting up payment tools and systems and integrating new members, athletes and sponsors.
Frequently Answered Questions
What is a sports management system?

A sports management system is a specific software solution designed to manage sporting games, teams, and events.

What does sports management do?

Generally, sports management as a job implies management and control of almost every aspect of a sports event. Sports management's activity may include training athletes, providing resources for their education, ensuring team and coach compliance, scheduling events and team lineups and promoting their team or club in local communities and on social media.

What is league management?

Sports league management implies use by league owners, managers, and founders a specific software that helps them solve administrative tasks, control payments transactions and reports, and improve overall league activity.

What does a sports management app offer?

Sports management apps usually offer an all-in-one operational dashboard which integrates the administrative and engagement tasks related to running a sports team, club, or league. The most common features of sports management apps are online registration, event planning, and secure in-app payments for members and sponsors.

What skills do you need for sports management?

Here are several essential skills you'll need to work in sports management:

Flexibility in performing several tasks at once
Effective time management
Self-discipline
Communication skills
Analytical mindset
Creativity
Writing skills