IT Services for Startups
Advanced IT services from tech consulting to integrated software development that will launch your startup to the first IPO!
IT Consulting with High Skill Tech Expertise
Taking the client's original ideas, we've guided them through every stage of the appropriate software development model, including:
Drafting a Service Level Agreement (SLA) correctly.
Picking the right specialists and a technology stack.
Outline the approximate time-to-market and the required budget, and others.
Full-cycle Software Development for Startups
We helped 20+ startups launch their software projects from the initial idea at all stages, including discovery and design phases, as well as creating MVP with the following refinement and bringing the product to the market. Working with us, our clients get the following benefits:
Our clients can order both full-fledged turnkey solutions and MVPs development.
Agile-based flexible development approaches that immediately respond to your strategy.
We offer a discovery phase and analyze all competitors in the market, so our clients can plan the exact budget and the future positioning of their product.
If a client has a strict launch budget, we offer a cost-efficient approach based on editing the final list of features to fit into the budget.
Due to the fact that we use a product approach, we can develop exclusively those features that will cover the needs of the target audience of the product.
We offer a remote delivery strategy and guarantee full access to our qualified experts. So, our clients have no need to keep a team on their staff, and we close all the risks connected with employees.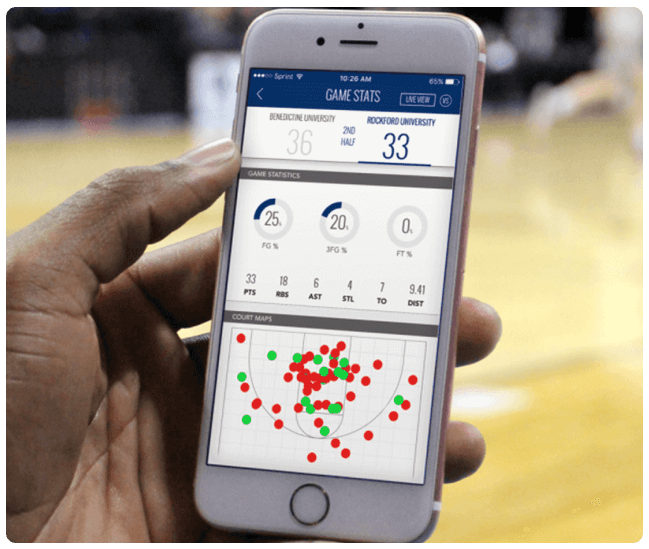 ShotTracker Team: Real-Time Sports Tracking Solution
Bluetooth Low Energy technology
IoT-based ecosystem
Real-time sports statistics on various metrics
Integrated video editor
Zone maps & shot charts for clear visualization
AR-based elements to follow the game on any surface
Lots of comparison options for specific players, teams, games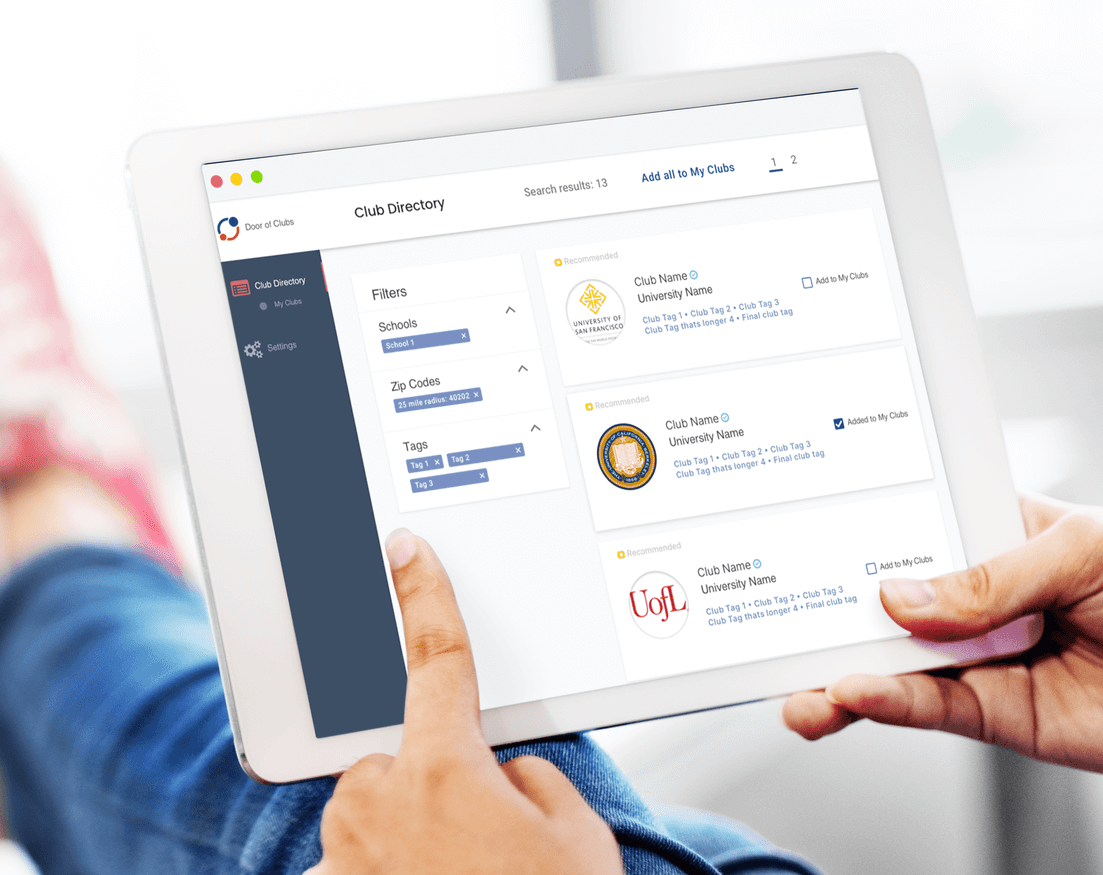 Door of Clubs: Professional Portal for Students and Employers
PHP-based web portal providing different career opportunities
Connects employers and student members of dedicated clubs
In-app data filters on various parameters
Flexible payment system with multiple subscription plans
Detailed, highly customizable student profiles
Registered companies can specify their recruitment requirements to speed up the search
A convenient form for employers to get in touch with the most appropriate student clubs participants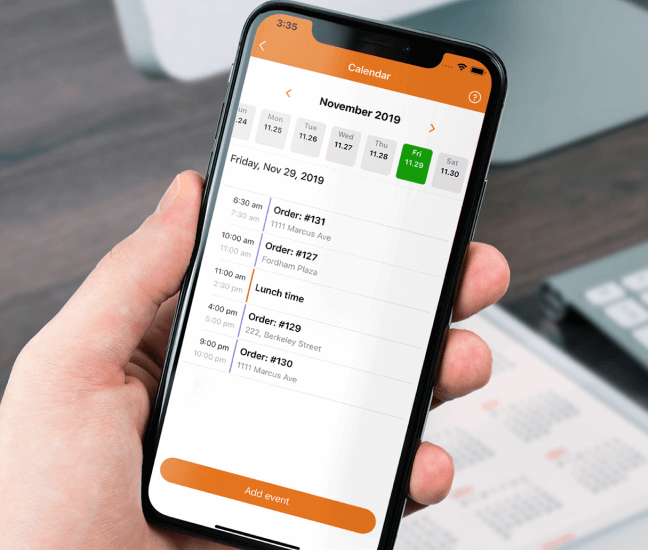 MyTable: Uber-like Service to Connect and Hire a Professional Chef
Food delivery startup
Uber-like service model
Connects users with professional chefs to order their services
Secure in-app payments via Stripe
In-app rates calculator for orders
Integration of Instacart, a third-party grocery retail service
In-app chats via an Applozic service
Available on iOS and Android devices
Well-knit Software Development Teams for Startup Projects
As we provide dedicated teams along with business analysts, designers, project managers, mobile and web developers, QA engineers, and other experts who have already worked together on startup-focused projects, you get the following benefits:
Short cycle of picking the right candidates.
Fast on-boarding on a project.
Transparent payment model.
On-the-fly replacement one of the specialists on the vendor's side if needed.
Good understanding of the technology stack by every member of the development team.
Our Experts Who Can Boost Tech-Side of Your Startup
Ilya is a CTO of Mbicycle. He has a very strong technical background and high-end qualifications in mobile app development. Ilya worked as a Team Lead on various software projects, providing top-notch solutions for both startups and SMEs.
Working with Ilya, our clients get full-cycle assistance for a variety of software development issues and requests. He skillfully leads mobile development teams and currently has dozens of successfully completed projects in his portfolio, including robust solutions for the sports, IoT, and on-demand economy domains.
Ilya Kislenka
CTO
Evgeniy is a qualified Business Analyst with a five-year experience in this position and almost eight years of overall background in the IT field. He is fluent in several popular and efficient design and prototyping tools, including Figma, Sketch, Balsamiq, Axure RP.
Evgeniy has participated in pre-sale processes during the discovery phase, as well as worked abroad on the client's side. As feedback about working with Evgeniy, our clients often note his good skills and approaches to describing project requirements, as well as his high qualification in creating layouts/wireframes and UML diagrams.
Evgeniy Gofen
Business Analyst
Katsiaryna is a skillful Project Manager, who has effectively operated development teams on a few IoT-based startups. After working with Katerina, our clients usually ticked off her strong communication skills, strict adherence to project deadlines, and effective tracking of the team's progress.
Katsiaryna is always ready to help our clients with recruiting specialists for the project, choosing the right development methodology, and the team's onboarding for a specific project following the client's requirements.
Katsiaryna Makarevich
Project Manager
As Alexandra has successfully managed several software projects for the sports and Internet of Things domains, she is experienced enough to gather client's requirements precisely, find qualified specialists, provide an accurate briefing for the team, and then effectively manage the project at every development stage.
Leaving feedback about working with Alexandra, our clients usually specify her great communication skills, responsibility, attention to detail, well-organized time management, and the ability to act quickly and efficiently in case of any issues.
Alexandra Artsiomenka
Project Manager
MVP Development for Startups
Guiding our clients from every stage of software development, we deliver full-fledged MVPs to further scale up their projects, raise investment, and reach the proper audience. Our approach provides the following benefits:
Flexible approach to the start of development. We can launch your project with a discovery phase, as well as work strictly according to your TRD.
We will assemble and prepare a team for your project in 5 working days.
When creating an MVP, our team prepares it as a base for the next finished product by default.
We conduct quick testing of various features of the app on the target audience using prototypes and other methods before the final MVP is released.
We pick and implement the most appropriate and efficient technologies and tools to scale and maintain the product in the future easily.
All-round Maintenance & Support
Our company offers not only the development of a ready-made software solution but also assists in bringing the product to the market, publishing it, debugging, and maintaining it after its first launch. This type of support is crucial to avoid some unexpected issues that should be fixed early in and evicted in the future when your project will interact with a lot of real users at once.
We provide our clients the following benefits:
24/7 support at launch during the first days after release.
Schedule of updates after release and the implementation of minor features based on gathering feedback from the target audience.
Dedicated R&D team to develop a solution scaling plan.
Assistance in setting up analytics and data collection.
Advanced Technology Stack
We track all the latest technologies in the field of software development, inviting startups to focus only on their product, not on the choice of the proper technology stack. For each project, we assort such a set of frameworks and development tools in order to offer a solution promptly and under the initially allocated budget.
Going with Your Requirements
For 10+ years in the field of software development, we've managed to cooperate with startups from sports, entertainment, e-learning, finance, healthcare, and other business areas. We'd studied their internal business processes and particularities thoroughly, so now we offer software solutions perfectly tailored for each specific industry.
Our experts worked closely with the IoT technology, live video streaming, online communication, Cloud-based services, and more.
Short Time-to-market
We know the importance of hitting the right audience with your solution in time and getting ahead of competitors. We choose the right development models for each project carefully and offer a short time-to-market due to understanding subtleties of software development.