Custom Corporate Wellness App Development
Get advanced corporate wellness app development services from a company that cares about the wellness and health of its 130+ employees around the globe.
Why Build Custom Wellness App Involving Our Developers?
Our company today has a large staff of specialists in offices around the globe. We understand how important it is to take care of the employees' mental & physical health. That's why we work on delivering high-quality custom-made wellness software for corporate use by businesses in various domains.
We advise our clients' to build custom wellness applications for their employees to help them stay fit and healthy. In the future, such a decision always pays them off due to improving overall performance, raising satisfaction with working conditions, and, as a result, reducing the personnel outflow.
Benefits of Launching Your Custom Wellness App
Investing in your custom wellness application may bring your company the following clear competitive advantages:
Individual approach
Designing wellness programs specifically for your employees, taking into account their average age, geographical location, type of activity in your company, etc.
Costs reduction
Reducing the cost of health insurance services paid by your company and minimizing payments for third-party fitness and wellness providers.
Employee inspiration
Increasing team spirit through better interaction between departments and team members in your corporate wellness application.
Brand awareness
Improving the company's image and strengthening the brand among employees and business partners.
Sick-leaves reduction
Reducing the number of sick leaves and the cost of their payment, as well as decreasing the overall turnover.
Productivity growth
Getting higher morale and productivity levels due to assuring well-worked health & wellness care of your employees.
Flexible customizing
Customizing your corporate wellness software at any time in line with changing internal business workflows.
Easy integration
Integrating this custom wellness solution with other tools and programs you're using in your company at the moment.
Several Delivered Corporate Wellnes Solutions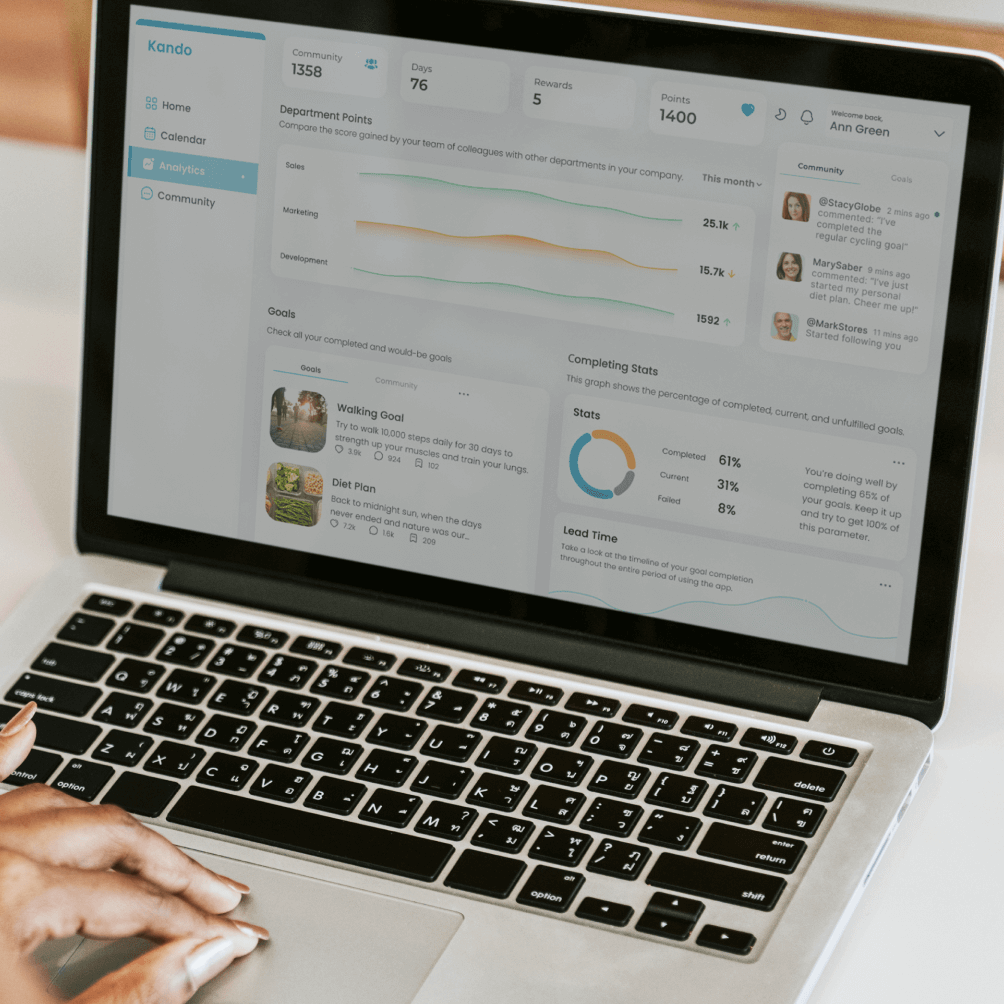 Employee Engagement Corporate Platform
Wide-range tools to set and customize in-app challenges in line with the specific corporate needs
Employers can create & participate in challenges themselves
Leaderboards to track user progress and achievements
Strong integration with health and activity tracking wearables from well-known providers, such as Fitbit, Apple, Garmin, and others
A thoughtful corporate rewards program that includes gift certificates, salary bonuses, Health Savings Account contributions, paid days off, etc
On-demand analytics are gathered at online dashboards to build and set in-app challenges and employees' interaction properly, check and update reward programs, and track the progress of established healthcare & wellness goals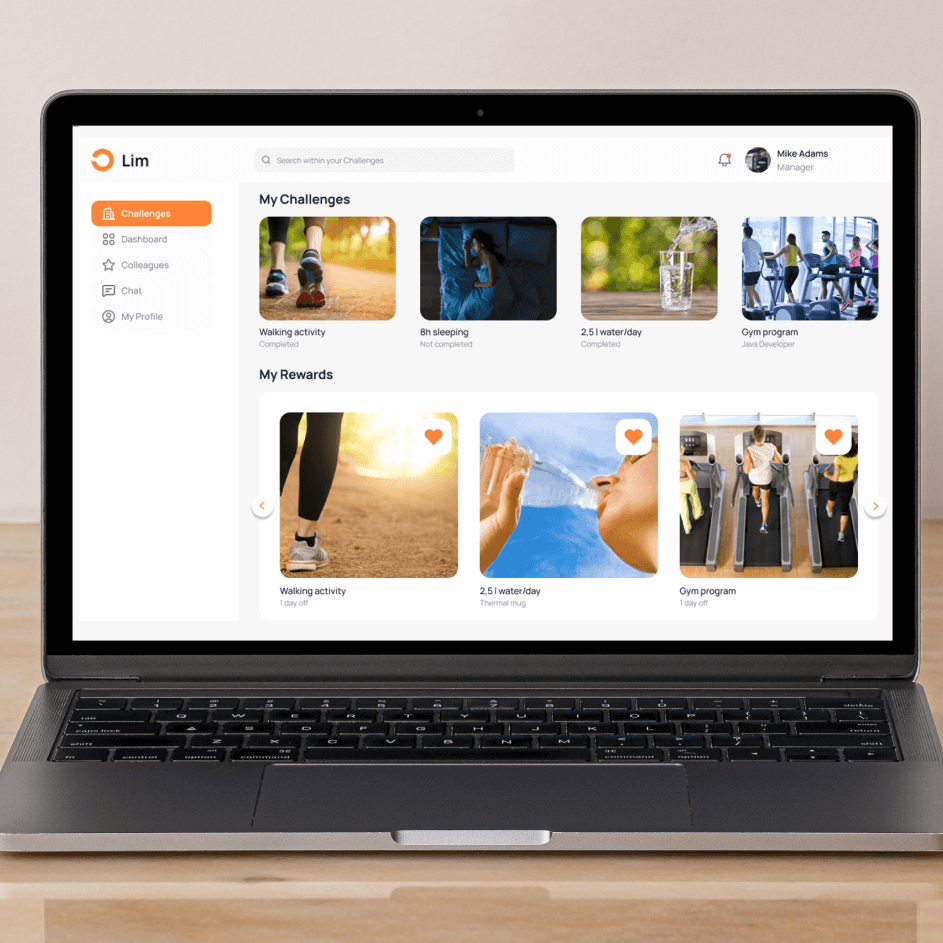 Physical and Social Wellness Software
Set of tools for tracking employees' daily activities and measures, including walking, weight, sleeping time, and workouts to help them stay fit, healthy, and proactive during the day
Reliable and well-adjusted notification system to help co-workers who have chronic diseases take their medicine timely
The ability to achieve the in-app health & fitness goals both personally and collectively
The app has functionality for increasing recognition among colleagues, teamwork, birthday and work anniversary celebrations, and reward programs to motivate co-workers and assure high satisfaction with their jobs and the company in general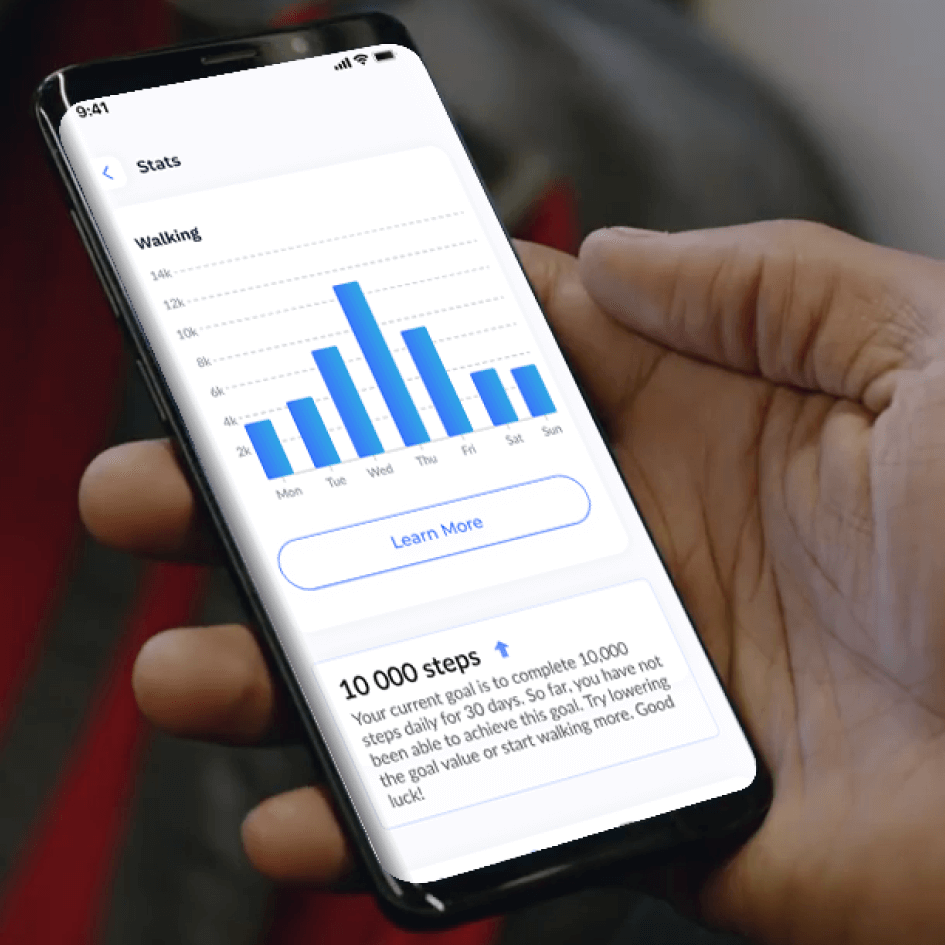 Remote Virtual Corporate Wellness App
Personalized exercises and wellness plans
In-built diet & activity guidance
Integration with world-famous fitness tracking wearables, including devices from Apple, Samsung, Garmin, and others
The ability to do sports, yoga, or meditation using VR devices and technologies
The app provides live sessions and workouts from over 30 fitness and wellness experts from all over the globe
Step into the growing market of apps for corporate wellness with qualified experts from the Mbicycle corporate wellness software provider.
Key Features of Custom-build Corporate Wellness Software
In recent years, the development and rollout of custom corporate wellness apps have gained tremendous popularity due to the number of features they provide to business owners and their employees, as follows:
Tracking the health & activity parameters of your co-workers.
Custom tools to Involve employees in interdepartmental interaction and enhance teamwork.
Telemedicine capabilities of a wellness app when the company employees can set exchanges with their physicians and get prescriptions remotely.
The ability to build your custom wellness app based on the white label model.
Vast possibilities to adjust health, fitness, and wellness challenges, programs, and rewards.
The ability to add an unlimited number of employees to your custom application, whereas when using third-party services, adding each new employee will increase the cost of operating their software.
Online fitness, yoga, and workouts to keep employees fit remotely.
Mbicycle's leaders initially convened with our leaders to come up with the scope of work for the project's goals. Then, those leaders assigned a project manager on Mbicycle's side and another project manager on our end. After that, we executed the goals and created the software that we needed.

Pranam Lipinski
Door of Clubs, ex-CEO
Door of Clubs
Door of Clubs allows student clubs to promote themselves, get financial aid from corporate sponsors, and help their members discover job opportunities from partner employers.
Thanks to Mbicycle's development prowess, we were rewarded with a functional and exquisite mobile app. The app's got a five-star rating and its download volume has increased significantly. The communication, response time, and quality of work have been impressive throughout the workflow.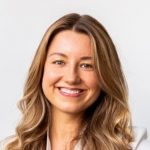 Esmeralda Karlsone
CEO & Co-Founder at Chefly
Chefly
A marketplace-based platform for mobile and web devices with the idea of bringing together customers and professional chefs to cook restaurant-quality food at customers' homes. The solution is easy-to-scale and can be distributed according to the White Label model.
Ways of Integration of Custom Wellness Software
One more important option you get building custom corporate wellness software is its smooth integration with the software tools and services you currently operate daily. Thus, you can connect your custom-build health and fitness app with Zoom, Slack, Microsoft Teams, any internal CRM, issue tracker, business workflow & employee management software to set exchange of the related data.
Frequently Asked Questions about Corporate Wellness Software
What are the main purposes of wellness software?

The wellness app is designed to track and improve the overall health & wellness parameters of its users. Usually, these apps address physical, mental, emotional, social, environmental, or spiritual factors of general condition.

What is corporate wellness app development?

Corporate wellness app development is an important component of every business workflow that has an objective to keep employees fit, healthy, and motivated.

What does a corporate wellness program mean?

A corporate wellness program usually intends a sponsored program established by employers to support employees and often their families. Such programs usually motivate employees to do various activities that reduce health risks, improve performance and productivity levels, and benefit a company in general.

Why corporate wellness programs are so important?

The importance of wellness programs is based on the idea that they help your employees embed healthy habits into their daily routine. In the long run, these habits will make your employees healthier physically and mentally, improving their performance and efficiency down the road.

What do employees want to gain from corporate wellness apps?

Among the main features that good corporate wellness applications should provide employees usually name the following:

Exercises and tips to improve health and maintain well-being
A high level of co-worker engagement and wide possibility for social interaction
Well-thought bonus programs and rewards to stimulate user involvement