How Artificial Intelligence in Sports Impacts the Industry
November 24, 2020
Let's briefly recap the basics of artificial intelligence before jumping to the prospects and impact of the technology on the sports industry.
What Is Artificial Intelligence?
Artificial intelligence (AI) is a complex term covering a number of smart technologies that share the ability of self-learning. AI-equipped solutions can process and analyze large amounts of data without the need to store it.
Artificial intelligence can perform multiple tasks, replace and speed up manual operations, assist with taking more appropriate decisions, as well as automating decision-making altogether in order to minimize human involvement. In other words, AI technologies simulate humans' abilities to sense, think, and act thanks to the following features:
Image and video analysis
Facial recognition
Speech and text analysis
Machine and deep learning
Natural language generation
Smart search and recommendations, etc.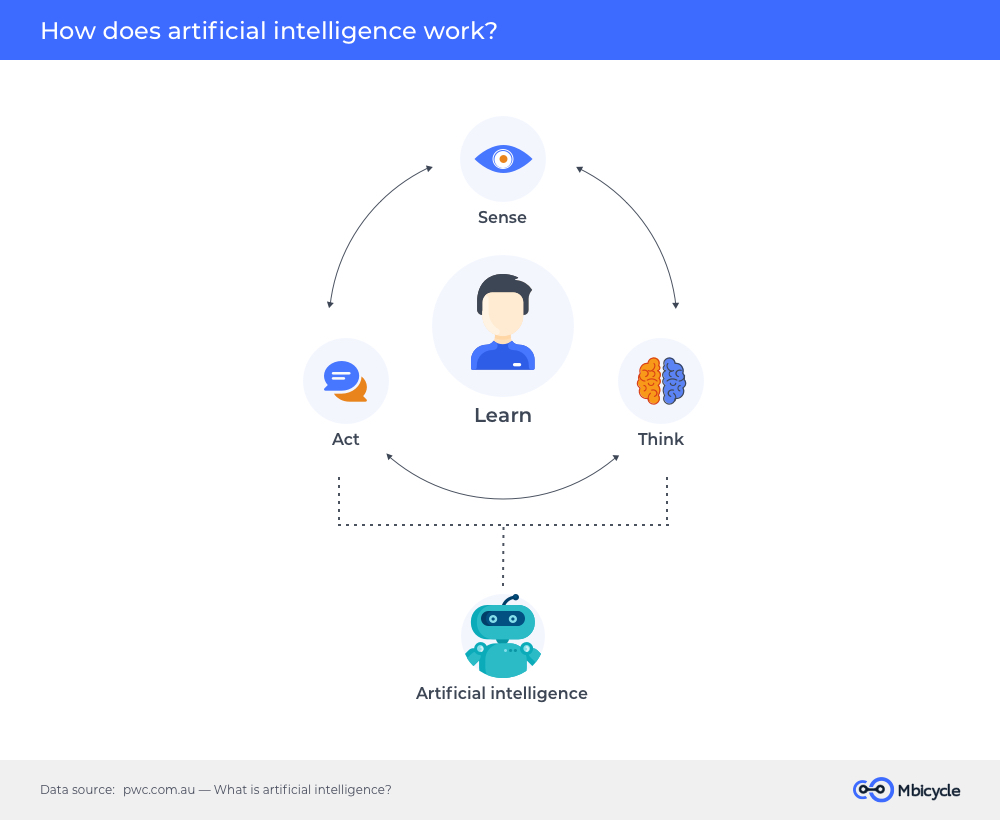 In case you want to learn more about artificial intelligence, machine learning, and other related technologies, or to get some insights into making apps based on them, take a look at AI/ML consulting services provided by our company.
Where AI in Sports Comes into Play
To learn how AI impacts the sports field, let's clarify first how this industry works and what its main profit-making ways are. Today there are several major revenue-generating routes for sports businesses:
Ticket revenues from sports events
Licensing fees paid by the media to broadcast sports events on their branded networks and platforms
Sponsorship fees paid by brands to get promoted through a particular sports team, league, facility, or event, including naming and other related rights
Merchandise revenue from the sale of licensed products with players' names and images, teams' and events' logos, mascots, and other intellectual property
Integration of artificial intelligence in sports ticketing, broadcasting, promotion, and merchandising can distinctly improve these revenue areas, as well as providing customers and athletes with new experiences.
By the way, you can check out sports software development services delivered by Mbicycle to get the taste of how technologies are augmenting this centuries-old industry right now. Once you return, you'll find what AI-based software solutions exist today in the sports industry.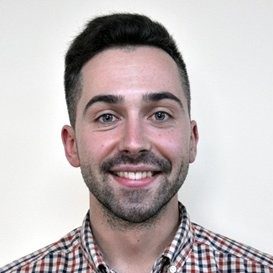 Alexandr Mashkov
Sales Manager
Are you looking for a qualified team to deliver AI-based software solutions?
With a few AI-focused software projects developed, the Mbicycle team is ready to assist your company with delivering a similar solution.
AI-based Solutions in Sports Today
Fortunately, the world of sports is full of metrics that can be precisely measured and even predicted, so that's a very suitable area for artificial intelligence to come in.
It's no wonder that in recent years AI-based apps have become quite popular among sports companies, fans, and athletes. We are sure that with the positive impact they've made on the industry, applications with AI at their core will shortly become even more integrated into sports.
We made a list of areas where AI technologies help coaches and managers at sports companies benefit from new possibilities:
Training and coaching. Processing data from players' games and workouts, coaches and club managers can uncover the strengths and weaknesses of every player to improve their skills in a more individual way and build custom training programs.
Health tracking and maintenance. Wearable electronics together with AI-based algorithms help monitor players' activities during games and workouts to predict and avoid injuries and other health issues.
Scouting and recruiting athletes. Using AI algorithms to analyze players, club managers can easily evaluate players' potential and estimated market value. Applying prediction artificial intelligence algorithms in sports together with players' current stats analysis, sports clubs, teams, and promotion companies will be able to make smarter decisions about the right talent acquisition.
Advertising and broadcasting. By continuously studying the targeted audience of a game or a sports event, AI helps companies optimize live broadcasting by adjusting camera angles and subtitle language based on the viewer's location and language preferences. Knowing the audience also helps with displaying advertisements in a more personal way.
These are examples of the AI-driven technologies which are actively used in sports today:
Chatbots. Virtual assistants help athletes, sports teams, and stakeholders keep fans and amateurs in the know on a variety of topics, including game schedules, players' stats, and event logistics.
Wearables. Professional athletes and amateurs can use wearables to track health parameters in real time to avoid injuries and optimize training and performance. Wearable electronics equipped with AI technologies gather all necessary data timely and transmit it for further processing via dedicated applications.
Computer vision. Technologies for object detection and facial recognition can help identify particular players' movements, facial expressions, and other parameters during games and process this data. Using AI in sports analytics is especially important in such sports as racing, where you need machine vision to deal with high-speed movements.
A Few Examples of Using AI in Sports
NHL Chatbot
Our first example is about the National Hockey League incorporating AI in sports to enhance customer engagement. As a part of this integration of AI in hockey, Tampa Bay Lightning partnered with Satisfi Labs, a company that designs virtual assistants, to deliver ThunderBot. This is a specific chatbot created to keep hockey fans updated on a variety of topics, including news about Tampa Bay Lightning's home arena, game schedule, ticket price and their availability, as well as real-time information about parking and catering during games. When ThunderBot isn't able to provide a fully informative response, a customer service representative joins the chat.
Tampa Bay Lightning plans to integrate its virtual assistant with Facebook Messenger. According to Eric Blankenship, VP of Marketing at Tampa Bay, their official chatbot "will make it much easier and convenient for our fans to attend games" and keep up with the team.
After adding the ability to buy tickets in ThunderBot, over 50% of the fans got to use this feature. Satisfi Labs estimated the projected annual revenue from using this feature at $25,000.
AI-powered Wearables in Boxing
The next AI sports solution is by PIQ, a French sports robotics startup. Together with Everlast, PIQ developed both hardware and software that they specified as the "first AI-powered wearable for combat sports." Based on GAIA Intelligence, a machine learning platform, PIQ's software is using AI sports analytics to track and analyze even "microscopic variations in boxing movements," which increases the efficiency of athletes' workouts.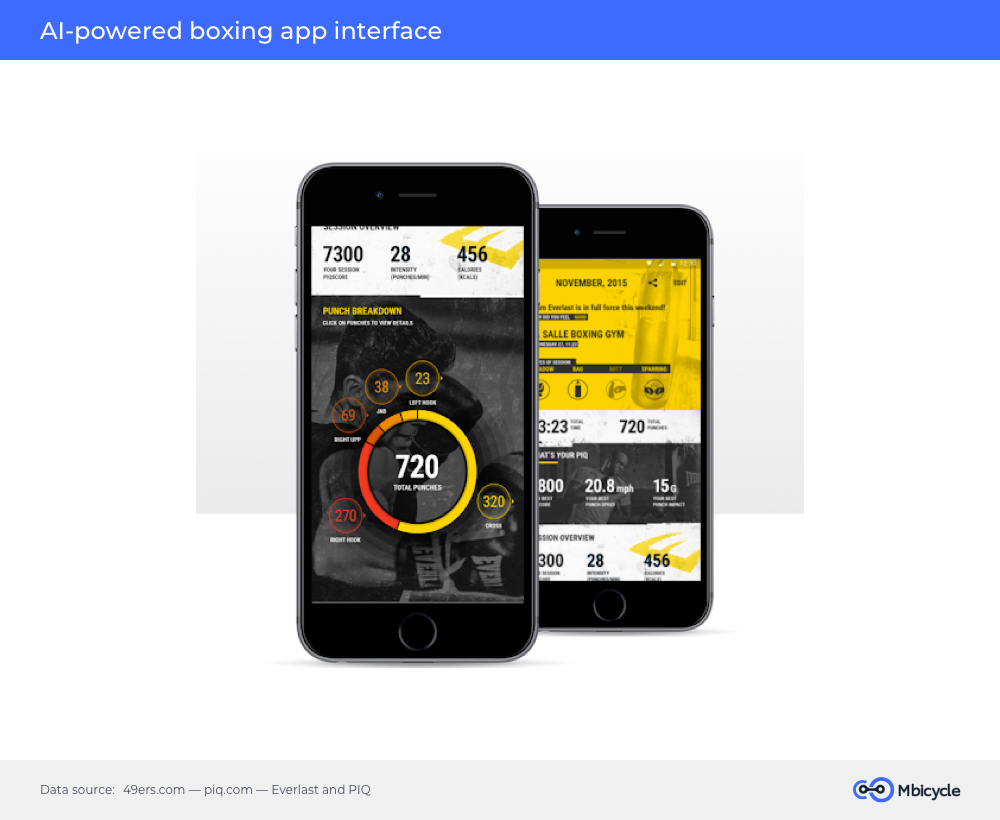 Using their official mobile app, boxing coaches and athletes can get access to recorded data about workouts, track activity levels, as well as compare their metrics and achievements to other users displayed on the leaderboard.
Automated Journalism for Minor League Baseball
To unveil the potential of sports journalism through automation, The Associated Press (AP) worked closely with Automated Insights, a North Carolina startup. Together they used AI-based technologies to expand the media outlet's coverage of Minor League Baseball (MiLB) games.
Automated Insights developed Wordsmith, an AI-driven platform that translates hard data from MiLB into narratives using natural language. As a result, The Associated Press increased its reporting activity covering 13 leagues and 142 MiLB-affiliated teams. According to Automated Insights, that helped The Associated Press achieve "3,700 quarterly earnings stories — a 12-fold increase over [AP's] manual efforts."
Today AP is just one of 200 customers using the Wordsmith platform, which generates a reported 1.5 billion pieces of content annually. By now, Automated Insights has reportedly raised $10.8 million in Series A and Series B funding from 10 investors which include a mix of startup partners, venture capitalists, and investment firms.
As we can see, sports is a perfect field for automation and predictive analytics with all the stats and other numeric data it holds. This data can be structured and analyzed, which opens great opportunities for integrating AI-based technologies to improve this industry's processes.
Tomorrow's Trends of AI in Sports
There is no doubt that artificial intelligence is here to stay. CEOs of several technology giants, including Google and Baidu, have already declared a move from "mobile-first" to "AI-first" in their upcoming innovative developments.
With that in mind, we have summarized a few outstanding examples of AI-driven sports software solutions that are in development right now.
Alan Fern, Computer Science Professor from the Oregon State University, is currently working on processing videos from the National Football League (NFL) games with deep learning, training computers to understand the intricacies of football itself and the role of coaches there. As effective coaching requires years of experience and perfection, AI-based software could be very useful for it. Providing coaches and teams with improved accuracy in analyzing common mistakes, AI-driven technologies can notably improve players' skills and the quality of games overall.
"For example, knowing how players move during a game could help coaches plan an athlete's training so he reaches peak performance. It could also shed light on the best matchups between receivers and cornerbacks and measure the contribution of each player to every play." — Alan Fern, Computer Science Professor, Oregon State University.
Another example of implementing AI technologies in sports is represented by a portable device called In/Out Tennis developed by Grégoire Gentil to communicate with both iOS and Android applications. This device acts as a digital referee in tennis, which is based on using computer vision and device hardware to detect the speed and placement of a tennis shot, even in situations when the ball gets out of bounds.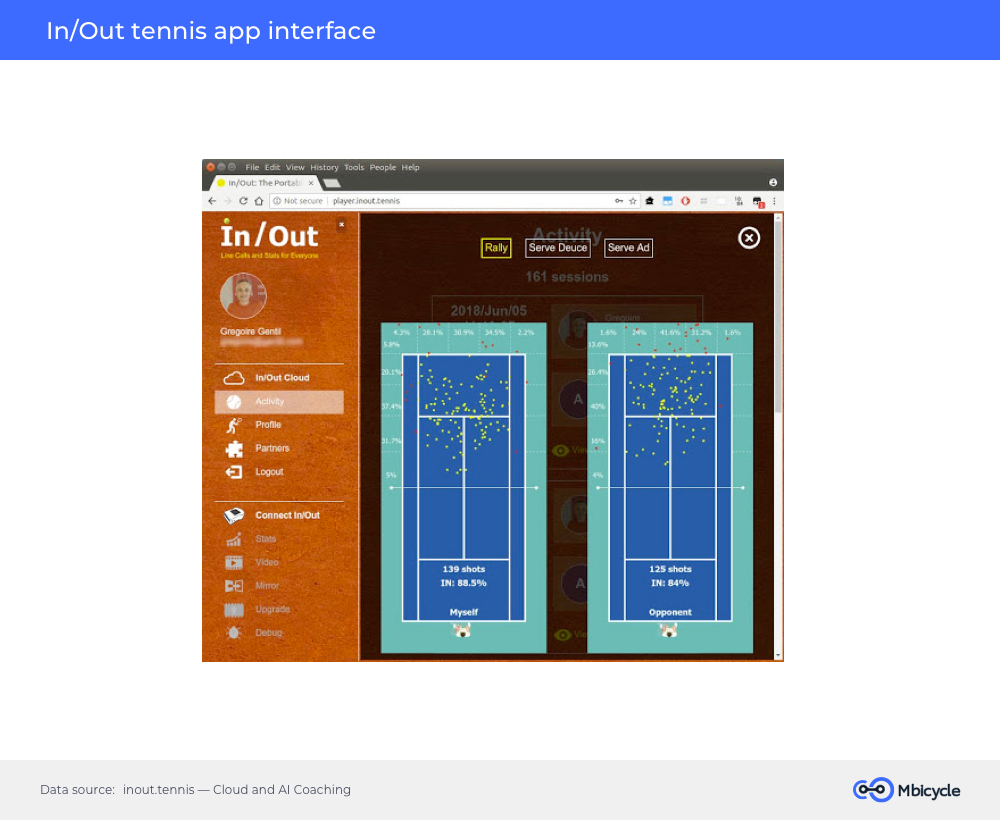 Although the device is currently in its prototype stage, it has already demonstrated the growing possibilities of combining AI software with portable hardware. Today, In/Out Tennis is offering multiple options for refereeing and coaching in tennis, thanks to instant data processing, video storage, and media streaming features.
Summing Up
As AI mechanisms mimic human reasoning, they can generate self-sustained solutions for various intellectual tasks and create additional options for replacing and/or augmenting traditionally manual processes. Due to this, we believe that we are about to see a growing variety of applications using artificial intelligence in sports betting, ticketing, analytics, broadcasting, advertising, and many more areas.
However, while making predictions about the future of cutting-edge technologies, it's crucial to consider the ethics of artificial intelligence in sports, since its rapid development might push the role of humans into the background while the decision-making process behind AI algorithms is still hard to explain because of the notorious black-box effect.