Augmented and Virtual Reality in Sports: Pushing the Boundaries
October 15, 2020
Today everyone understands that technologies permeate all fields of human life, facilitating or complementing it. Like blockchain in finance, machine learning in engineering, or NFC in banking, augmented (AR) and virtual realities (VR) have augmented and improved lots of industries, including sports.
Both AR and VR are already having a significant impact on the sports industry, including fans, athletes, players, sponsors, and investors. The latest technological advances in virtual and augmented reality help:
Raise the sense of engagement for fans and players
Provide additional possibilities for training and improving skills
Add proper navigation and infrastructure elements at stadiums and other venues
Expand marketing reach for sponsoring companies
Of course, it's not the complete list of innovations brought by AR and VR into the industry. Let's discuss the trends and upcoming features of augmented and virtual reality in sports.
AR & VR in Sports: How Does It Work?
Every prospective sports solution made with the integration of VR and AR elements implies high-end skills and advanced knowledge of the latest technologies and market trends. We at Mbicycle implement a variety of tools and technologies incorporating markers, 360-degree videos, location data, and simultaneous localization and mapping (SLAM) to deliver first-class augmented and virtual reality solutions for the sports industry and its ambassadors.
To supply the industry with the modern best-fitting software solutions for sports amateurs, clubs, media, athletes, and coaches, we equip our AR- and VR-based applications with the following capabilities:
Adding contextual data to maps and other visual content
Assuring face, gesture, emotion and object recognition
Gathering and processing data sourced from sensors, accelerometers, gyroscopes, and GPS
Providing proper interaction with device hardware components
Enabling 3D environment modeling and object shifting
Supporting video streaming in VR
In our development practice, we use various up-to-date tools and frameworks to deliver the most robust and user-friendly AR and VR apps for our clients. For augmented reality app development, we work with ARToolKit, Apple ARKit, Vuforia, Google ARCore, EasyAR, Wikitude, DeepAR, MaxST, and more. To deliver high-end VR-based apps, we usually work with OpenVR, VRTK, Unity 3D, Google VR, Unreal Engine 4, Blender, AppGameKit VR, and others. Learn more about AR & VR development services we provide.
Augmented and Virtual Reality in Sports: Game-changing Solutions
With lots of ways to implement AR and VR in sports today, there are still a variety of niches that could benefit from augmented and virtual reality. We analyzed the current applications of these technologies and highlighted the following trends:
VR stadiums and venue tours
Since in augmented and virtual reality you connect the real world with virtual content, this allows sports fans to visit stadiums, other sports venues, and events in real time yet remotely. You can integrate augmented and virtual reality technologies in your software to provide your users with a 3D-mapped, 360-degree view of the playground or event hall, displaying every possible hit trajectories, switching observing points to show the event from the perspective of either a fan or a particular player on the field.

Thus, bringing AR and VR technologies into your application can enrich the experience during sport events and involve new audiences.
Paperless entry to sport events
A few companies are using augmented reality for face recognition to assure paperless access to sport events and playgrounds. This fresh AR-based immersive experience makes it easier for fans to visit events and motivates them to swap at-home watching for a live game.
Practicing and training with benefits
With augmented and virtual reality technologies in place, athletes and their coaches can track real-time data about every hit, run or throw in the most convenient visualized form during live games and practicing.

This visual data about athletes' performance during sport events and drills can be very useful both for them and their coaches for further analytics. Moreover, coaches can change players' positions and roles on the go based on real-time AR-data.
Fan engagement
With such breakthrough features as virtual stadiums, interactive game and player stats, paperless access to sports events, made-for-fans applications and web services, as well as VR and AR-enriched broadcasts, sports companies can attract more fans and amateurs and reach broader audiences.
Advertising
With AR and VR in sports, advertisers and marketers can offer an enhanced experience for both fans and sponsors. When it comes to marketing options, augmented and virtual reality technologies are very useful to gather specific data about prospects and help companies make much more personalized offers to their audience members.

Since every sporting event gathers lots of people with similar interests, it's a great place to plug in some attention-grabbing marketing campaigns. Using AR and VR technologies in sports, your business could enhance every poster and brochure with information overlays, show ads personalized by geolocation or other criteria during TV broadcasts, integrate ads into training or fan-oriented apps tailored to specific sports or teams, and so on.

Moreover, gathering data about fans' and athletes' preferences through mini-games or other AR and VR interactions can help optimize brand-awareness efforts and choose the most effective ad types to show in stadiums, apps, TV shows, or live broadcasts. Based on the user data gathered, you can even choose the team or player who will provide your brand with the most exposure and leads.
AR and VR broadcasting
Broadcasting sport events with the help of VR and AR technologies intends to narrow the gap between in-stadium and at-home experiences. People can watch their favorite games from the comfort of their homes and still get professional commentary, visual stats and analytics, and other details they could otherwise only enjoy when in a stadium.

The live telecasts we watch now are already augmented with realistic 3D elements and other interactive visuals. With AR and VR in sports, such big broadcasters as ESPN, NBS, Fox, and CBS can boost the fan experience of their live streams with a 360-degree view, switching of observation points, players' statistics, and more options.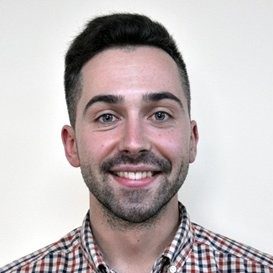 Alexandr Mashkov
Sales Manager
Do you need professional
software development?
We are ready to leverage our expertise
to set off your project.
Virtual and Augmented Reality in Sports: A Few Great Examples
Now, when we figured out the main trends and directions of developing AR and VR in sports, let's take a look at some noticeable examples of bringing new value to this industry with augmented and virtual reality tools:
EON Sports, a global provider of AR and VR solutions for professional athletes, uses visualization features to adjust virtual training to the personal needs of various athletes. Professional players can access this simulation technology via a headset or a large-scale multi-projector system, such as EON Icube.Running the simulation, athletes can experience realistic computer-generated actions, complete with the throwing speed, the trajectory of the ball, and the hitting strength authentic enough to make athletes feel like they are practicing in a live environment.

The National Football League, the Atlantic Coast Conference, FIFA, and other sports organizations have partnered with EON Sports to use their virtual training technology.

DribbleUp, a startup from Brooklyn, provides an AR-enabled smart ball for fitness, football, and basketball practices connected to their branded app. This ball has an AR-marker on its surface for connecting with the Android or iOS applications. To start practicing, users need to position their smartphones at the required level and connect them via the AR marker on the ball.Using the AR technology, a camera on your smartphone will track every movement to help you analyze and adjust your workouts properly. Since the app features classes and workouts for every skill level, the AR-based smart ball suits both beginners and professional athletes.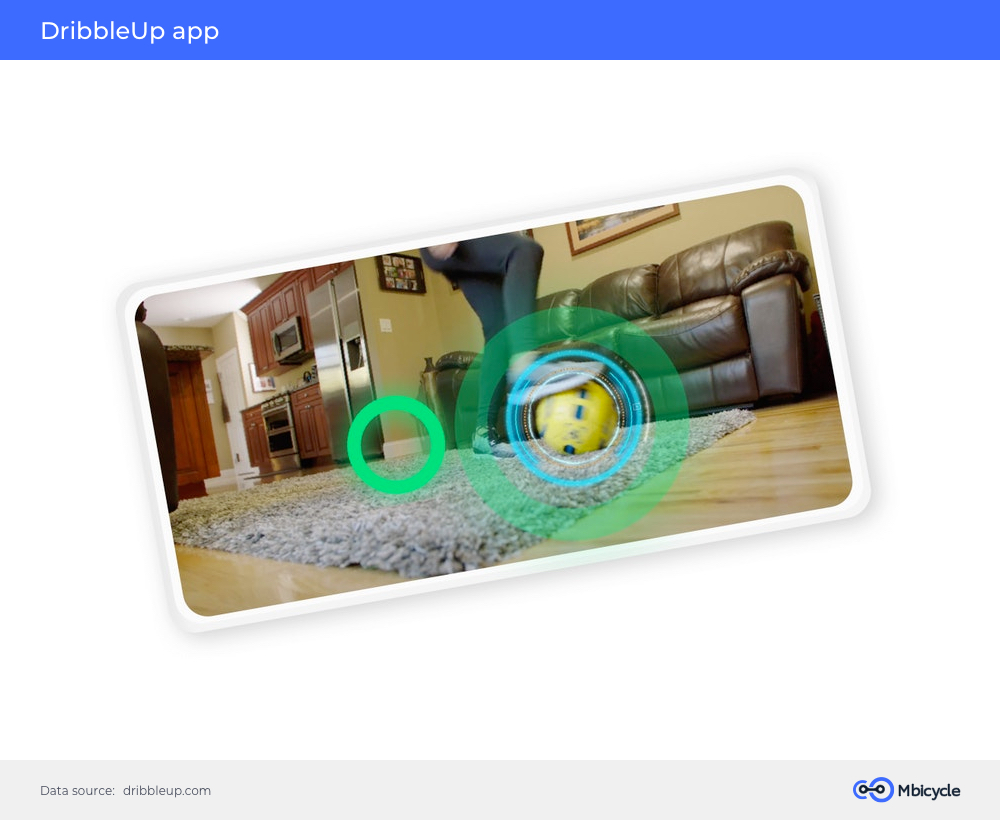 The San Francisco 49ers app is not just a full-fledged assistant for Levi's Stadium visitors with exclusive content, latest news, interactive fan experiences, ticket management, and the event schedule. It's also a great example of how its developers upped the sale of their merchandise using augmented reality features. The 49ers app users could scan AR-enabled souvenirs to access videos with the greatest moments of their favorite team's performance.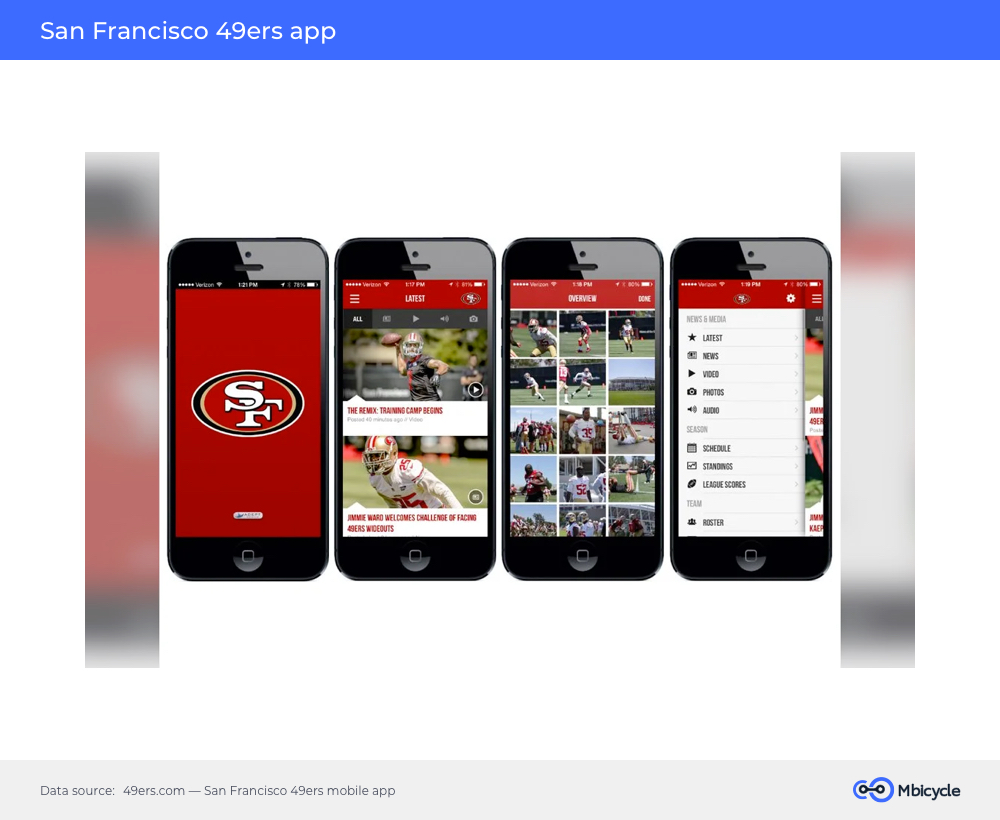 ShotTracker Fan is an application developed by the Mbicycle team as a part of the ShotTracker Suite. In addition to a few features common to sports apps, such as checking player statistics, getting news about a team or a club, and following game schedules, we added AR-based elements to the ShotTracker Fan app in order to enhance fan engagement. Thus, with the AR-enabled 3D Gamecast feature, basketball fans can interact with live stats during a basketball game in the arena and see a 3D map of players' movements in real time.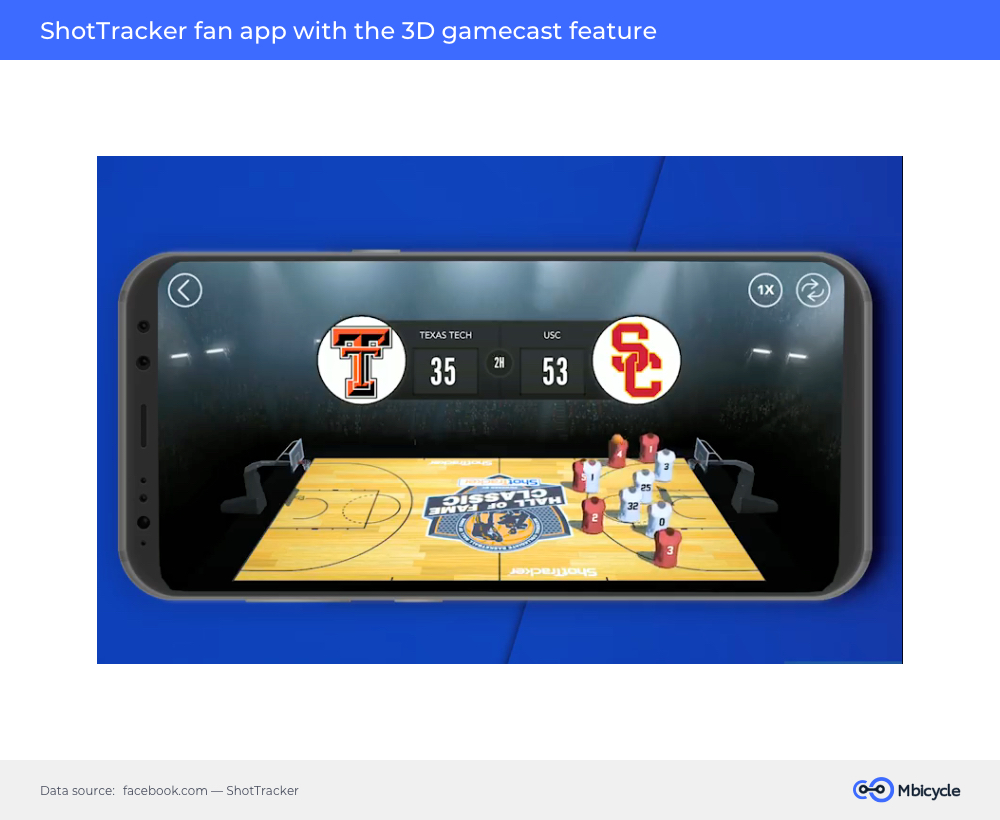 PGA Tour AR is an application for golf fans that contains a number of features to raise their interest. As the app supports the AR technology, users can follow the game action at home by projecting a real 3D model of a golf course to any flat surface.The app users can also see real-time shot trails, check stats and specific details about players, and select up to four players to compare their shots or watch the current pairing play a hole.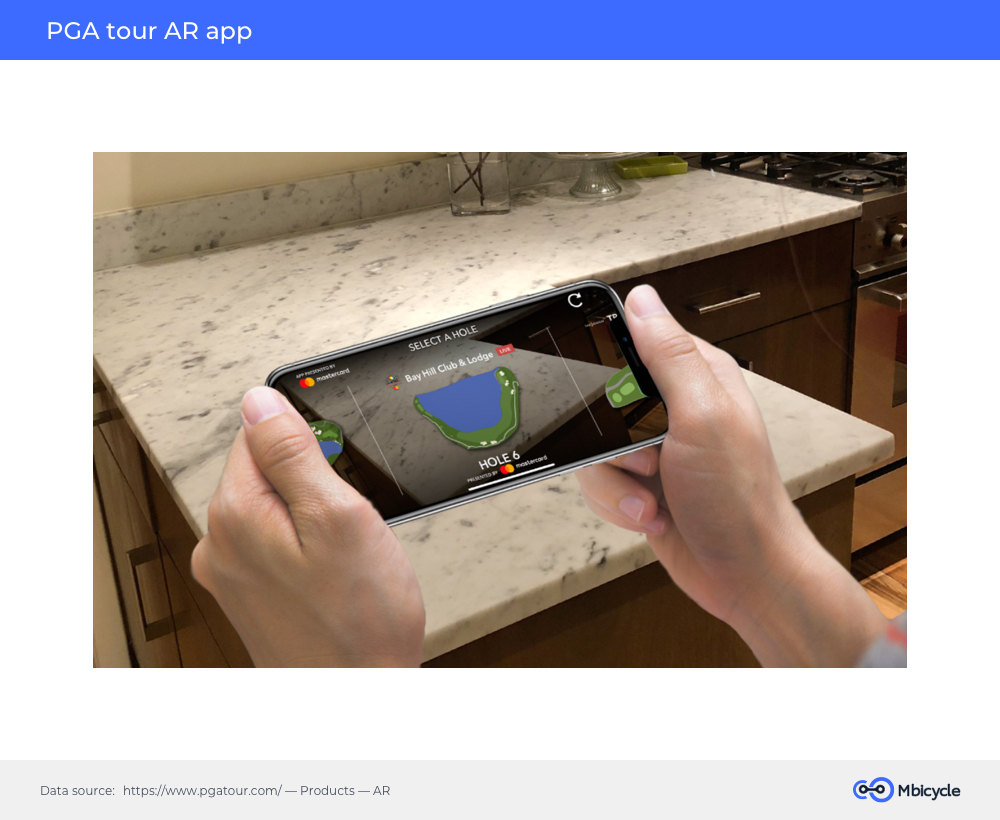 PuttView is an interactive learning environment for golfers that enables golf players and coaches to create any putting scenario indoors and outdoors to see real results out on the course.The app helps its users better analyze the golf course and adjust their timing and putting speed while also displaying ideal putting lines. The PuttView app can be also valuable in the long run as it instantly calculates every putt, projecting it directly onto the green surface using AR elements and tracking players' performance in real time to provide actionable feedback by reporting mistakes and visualizing a player's progress. This app is great for professionals and golf amateurs alike.