ShotTracker — BLE-powered App Suite for Basketball Players and Coaches
A full-fledged solution based on Bluetooth Low Energy technology for amateur and professional basketball players and their coaches that allows tracking real-time activities during basketball workouts and games.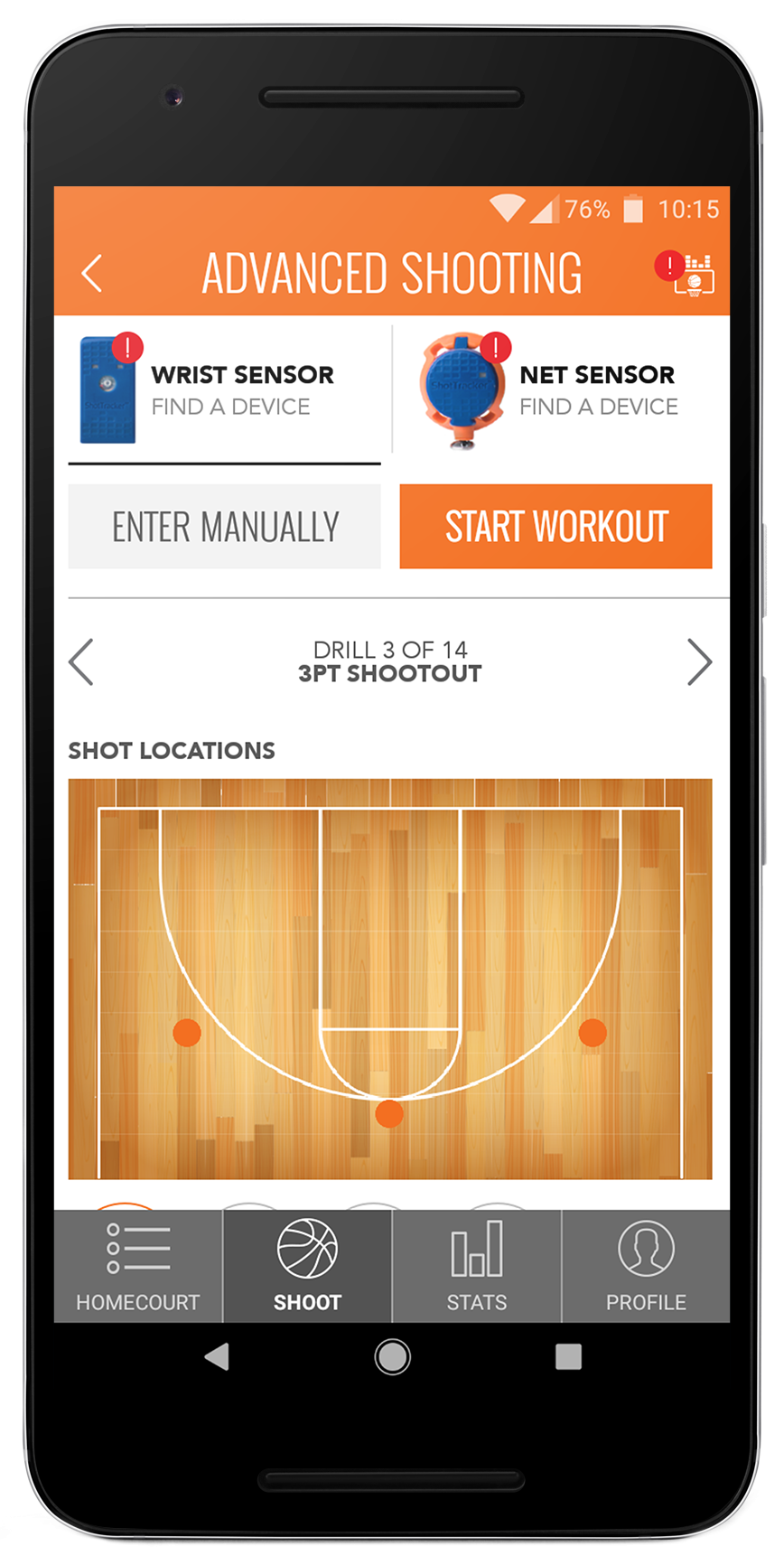 Challenge
ShotTracker was founded in Kansas City (USA) in 2012 as a small but ambitious startup. Two founders — Bruce Ianni and Davyeon Ross — had the original idea to provide non-professional basketball players with an app for real-time tracking of their activities during workouts. To make this idea come true, they tailored specific Bluetooth Low Energy (BLE) sensors, beacons, to their needs.
To implement the idea properly, ShotTracker's founders looked for qualified software developers, and that's where our story starts. One of ShotTracker's founders, Davyeon Ross, had worked with MBicycle's CEO on another project before, so he was well-acquainted with our expertise, and chose our development team for this project. We were honored to become the partner to bring the ShotTracker application suite to the market.
Our initial challenge was to develop an application for amateur basketball players that could be connected to BLE sensors to collect data on individual basketball workouts and provide users with accurate statistics. This short-run project was to grow into a massive seven-year-long engagement, with three more apps to come.
Solution
The Origins of ShotTracker Player
Our development team got started on iOS and Android applications for non-professional players. To track their basketball workouts, players would install the app, apply two types of beacons (available from the official ShotTracker web store) — one to their wristbands or shoes and the other to the basket — and set workout preferences manually. That was the starting point for the app that would become known as ShotTracker Player.
For this initial solution, we also developed an algorithm to connect beacons on players' wristbands and shoes with beacons attached to the basket. When a basketball player attempted to throw the ball, the beacons would track his or her actions and count the try either as a success or a fail.
Taking It Further
Over the next seven years, MBicycle's team delivered a few more iOS and Android apps with additional features for non-professional and professional basketball players alike.
We took the startup's original idea as our point of departure and delivered the following key functionality:
For getting more precise statistics, we enhanced the IoT ecosystem by enabling interaction between ShotTracker sensors attached to basketballs, players' garments or shoes, and anchors in playcourt rafters.
We added multiple types of drills and workouts that could be set either manually or automatically.
We provided basketball coaches with the ShotTracker Coach app so they could set workouts and check players' results remotely.
We designed a special court view map for tracking players' real-time positions during workouts and professional basketball games in the ShotTracker Team application.
We also developed ShotTracker Fan — an application for basketball fans who can now view past game stats or current games in real time.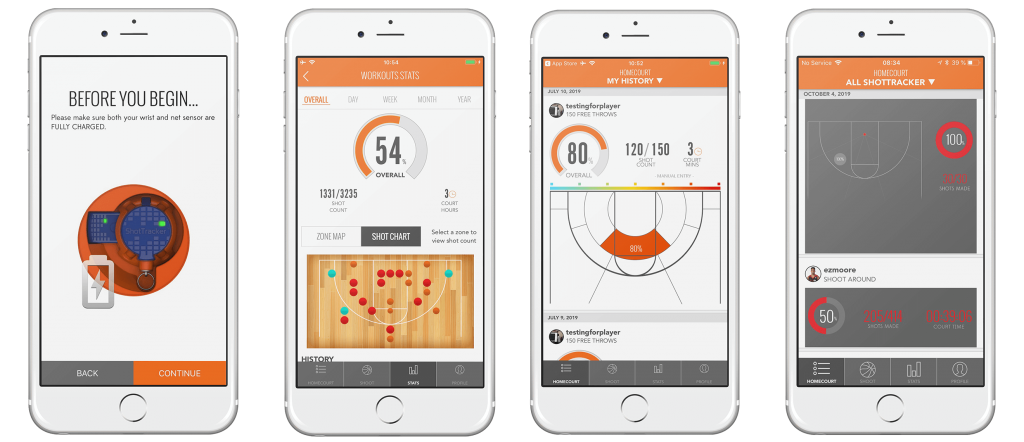 Process
Developing for Beacons
As soon as we got our hands on beacon hardware, we started workout app development with the iOS and Android versions for amateur basketball players — ShotTracker Player. It was a very simple application with features for connecting beacons, setting up workouts, and then looking up the statistics. The project's entire management was on ShotTracker's side, while the MBicycle team was solely focused on the development.
As imperfect as the first-gen beacons were, the first version of the app had a lot of issues with inaccurate data, the stats page loading speed, and sensors connecting to each other. It also offered a very limited functionality. That's why in 2014 ShotTracker's management provided MBicycle with an upgraded version of beacons, and we developed ShotTracker Player 2.0 based on them.
MBicycle's team regularly went on business trips to the ShotTracker US office to get the latest versions of beacon sensors, test and debug them along with the software. Moreover, regular Scrum sessions between MBicycle's developers and ShotTracker's management helped us avoid any serious issues during iBeacon app development.
Scaling Up the Project
After ShotTracker Player was released, professional players showed interest in this technology too. Together with ShotTracker's founders, we decided to enhance the current functionality of the app in our next solution — the ShotTracker Team app for professional basketball players and teams.
Professional players needed to get more specific performance metrics automatically during the game or workout, so we added detailed analytics about box scores, shot charts, lineups, possessions, and more. This app was the first to feature the zone map with live tracking of players' positions. This zone map became so popular that now you can see it in every ShotTracker app available on the market.
With the ShotTracker Team gaining success among professionals, basketball coaches turned their heads to ShotTracker as well, and that's how the idea of the ShotTracker Coach came to life. This software was designed for basketball coaches who now can set different types of workouts and see the progress of each player remotely.
The latest workout app solution based on the ShotTracker beacons technology is ShotTracker Fan. As the name implies, this application is designed solely for basketball fans. ShotTracker Fan users can look through each player's or each team's performance stats, get information about previous games, or join live games and track players' activities on zone maps in real time.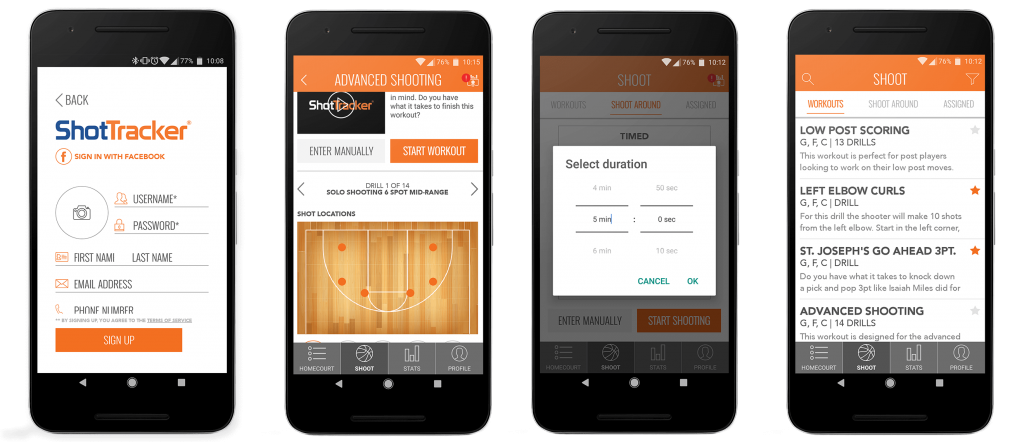 Technologies & Tools

Frontend
iOS SDK, Android SDK, REST API, social networks APIs (publishing, crawlers, oAuth),
Facebook SDK, Linkedin SDK, Google SDK

Communication protocol
WebSockets

Data layer management
Core Data

BLE and IoT management
Core Bluetooth

Third-party library APIs
Cocoa, Android Support Library
Results
After seven years of collaboration on workout app development, we delivered a series of applications for amateur and professional basketball players based on the ShotTracker beacon technology, with the following results:
We have set up stable interaction between BLE beacons and users' devices through extensive testing and debugging
We added new features to the startup's original idea and maximized the performance of each application
We increased data accuracy within the IoT network of ShotTracker sensors, basketballs, and facilities
With the success of the ShotTracker app suite, the National Association of Basketball Coaches (NABC) has named it their "Official Wearable Technology."
We're really proud of such close and fruitful cooperation between MBicycle and ShotTracker that continues to this day. It's been a great journey from the initial sketchy idea to a whole range of projects based on the ShotTracker technology. Today, we keep working on increasing the accuracy and performance of the apps to nurture ShotTracker's loyal user base.